The International Theatre Institute (ITI) Award
KARMINA ŠILEC AWARDED BY »MUSIC THEATRE NOW«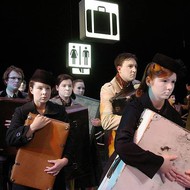 KARMINA ŠILEC RECEIVES THE "MUSIC THEATRE NOW" AWARD FOR THE PERFORMANCE OF LOJZE LEBIČ'S FROM TIME IMMEMORIAL ...

The International Theatre Institute (ITI) invited artists to participate in a worldwide competition for the creators of new opera and music theatre. Over 200 submissions arrived from more than 30 countries.
Karmina Šilec and the performance of "From Time Immemorial ..." were awarded in the category Music beyond opera. The performance of music composed by Lojze Lebič was directed by Jernej Lorenci. Among the prize-winning productions were also "Faustus, the last night" (Staatsoper Unter den Linden, Berlin), "Tears of Barren Hill" (Hongkong Cultural Centre), "Westzeitstory - Tischoper im Maßstab H-Null" (Staatsoper Stuttgart), "Unsichtbar Land" (Theater Basel), "Cantatrix Sopranica L." (Grand Théâtre de Reims) etc.
Contemporary music theatre, as it was understood in this competition, includes performances which demonstrate a new development in the art form, be it in score, libretto and/or staging. The competition was open to professional productions which expand the frontiers of the music theatre genre.

With "From Time Immemorial ..." Karmina Šilec introduced once again the concept or method of vocal theatre, called Choregie. With the idea of "Choregie – vocal theatre or theatre of voices" she opened up a wider space for complex multi-form artistic events. Choregie brought freshness and uniqueness by opening new spaces of expression, persuasiveness, intensity of experience and communication into the world of vocal music. Choregie staged productions incorporate music, drama, movement and other stage elements.