Citira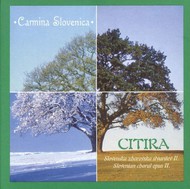 CD / 2002
The program for the CD Citira (from the anthology Slovenian Choral Opus, featuring works from the treasury of Slovenian vocal art for equal voices) has been compiled with the view to continue a systematic review of Slovenian musical creativity through the periods, embarked after the previously published record Drumlca. Citira includes works by some of the most distinguished Slovenian contemporary composers, presented either with their original compositions or their arrangements of folk music. Also included is the folk song in its original form, and an example of the Slovenian romantic period.
Conductor: Karmina Šilec
The Ford Award for preservation of natural and cultural heritage for the project Slovenian Sounds
The Carmina Slovenica Choir is the winner of this year's Ford Motor Company Conservation and Environmental Grants programme. The project Slovenian Sounds, followed by the release of a CD Citira – Slovenian Choral Opus II, was praised for its model or rather its approach to music. Its basic element is full comprehension of Slovenian music and, in a broader sense, Slovenian spiritual heritage; the choir applies this awareness to modern creative forms of expression. With interpreting synthesis of folk songs, dance and music, the choir manages to avoid the usual trap of pursuing nostalgia, or transforming into a 'living museum'. Folk heritage for Carmina Slovenica forms a model for today's creativity and creations, which comprise characteristics, features, particularities and differences – ingredients that are essential for creating modern life enriched with the dimensions of heritage … in Maribor, in Slovenia and the world! In the name of the jury, composed of Jožef Školč, Jerneja Batič, advisor to the Government for cultural heritage, Prof Dr Janez Bogataj, Rok Frey, General Director of Summit Motors Ljubljana, and Mirko Vaupotič, youth work consultant, the prize was awarded by Jožef Školč.
Performing
Carmina Slovenica Choir

Ljubljana String Quaretet
Olga Peceny, piano
From the Press
Janez Bole, in the letter

… but for the final assessment of a conductor I always wait for the touchstone of interpretational skills, that is – at least for me – the interpretation of an elemental folk song (not an adaptation). That is what happened on Thursday … Your performance was the crown of the evening and the people I spoke with shared my opinion. I had the opportunity to attend all evening events of the Slovenian cultural holiday – and this one was the most beautiful.
Short, concise and on a high artistic level.
You have shown many times that you have a subtle taste for song selection, for imagination and persuasive interpretation, which glows from your face (it can only be seen on rare conductors and it reflects in the hearts of the singers and listeners) …
Program
Lojze Lebič: Suita Four seasons
Fran Gerbič: Ave Maria
Josip Ipavec: Winter song
Emil Adamič: Evening
Marjan Lipovšek: So še rožce
GNI: Bog daj, bog daj, dober večer
Alojz Srebotnjak: Fireflies
Uroš Krek: Aj, zèlena je vsa gorá
Pavle Merkú: Čarni kus II
Priredba zapisa GNI Karmina Šilec: Da pa Canynu
Priredba zapisa GNI Karmina Šilec: Da citira Kafölawa
Ta črni patök
Vladimir Hrovat: Da höra ta Ćaninawa
Lojze Lebič: Upanje