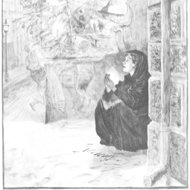 7. 1. 2018, Minoriti Church Maribor
Astonishing and haunting the little match girl passion sets Andersen's fable in the form of Bach's St. Matthew Passion. In Lang's own words, 'the suffering of the Little Match Girl has been substituted for Jesus', elevating […] her sorrow to a higher plane'.
ensemble !Kebataola! (Neža Vasle, Anja Šinigoj, Tine Bec, Jaka Mihelač)
Artistic director: Karmina Šilec
CHOREGIE Concert Series
Production: !Kebataola!