...
Carmina Slovenica was awarded by more than 100 awards and recognitions at home and abroad, among them with prestigious theater award Golden Mask, the Prešern Found Award, Ford Award for preservation of natural and cultural heritage, absolute first place with 100% points at International competition Kalundborg at Denmark, with most outstanding choir of competition "Kathaumixw 94", and many others.
Golden Mask Award for "Best foreign production shown in Russia 2015"
WHEN THE MOUNTAIN CHANGED ITS CLOTHING has been recognized a Golden Mask Winner in the nomination »The Best Foreign Production Presented in Russia in 2015.«
Music theatre production WHEN THE MOUNTAIN CHANGED ITS CLOTHING has been recognized a Golden Mask Winner in the nomination "The Best Foreign Production Presented in Russia in 2015." Awarded performance performed by Carmina Slovenica, which draws its inspiration from the Slovenian folk song Da Pa Ćanynu, is a result of Karmina Šilec's cooperation with Heiner Goebbels - theatre director, composer and one of the greatest creative personalities of today. Project was produced by Ruhrtriennale in 2012 and since than it has toured to several eminent festivals worldwide.
Festival Golden Mask is home to all genres of performing arts: opera, drama, music theater, operetta, musicals, modern dance and puppet theater and it regularly hosts performances from most important Russian theatres, including the Bolshoi Theatre, Mariinsky Theatre, Aleksandrinsky Theatre and many others. In March 2015 Carmina Slovenica participated in the festival as part of a new CONTEXT program in which the organizers of the festival presents high-quality foreign productions that give an insight into the diversity and the reality of theater.
The Golden Mask Award is given in over 30 nominations (for best production, best acting, directing, conducting, choreography, set design etc.). Award "The Best Foreign Production" is given annually to a production presented in Russia in the previous year. In previous years winners in this nomination have been Robert Lepage, Pina Bausch, Giorgio Strehler, Josef Nadj, Eimuntas Necrosius, Alvis Hermanis, Tamas Ascher, Viktor Bodo, Krzysztof Warlokowski, Katie Mitchell, Luk Parcevall in Michael Thalheimer.
Silver Order of Service to Carmina Slovenica
The International Theatre Institute (ITI) Award
KARMINA ŠILEC AWARDED BY »MUSIC THEATRE NOW«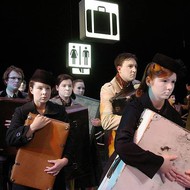 KARMINA ŠILEC RECEIVES THE "MUSIC THEATRE NOW" AWARD FOR THE PERFORMANCE OF LOJZE LEBIČ'S FROM TIME IMMEMORIAL ...

The International Theatre Institute (ITI) invited artists to participate in a worldwide competition for the creators of new opera and music theatre. Over 200 submissions arrived from more than 30 countries.
Karmina Šilec and the performance of "From Time Immemorial ..." were awarded in the category Music beyond opera. The performance of music composed by Lojze Lebič was directed by Jernej Lorenci. Among the prize-winning productions were also "Faustus, the last night" (Staatsoper Unter den Linden, Berlin), "Tears of Barren Hill" (Hongkong Cultural Centre), "Westzeitstory - Tischoper im Maßstab H-Null" (Staatsoper Stuttgart), "Unsichtbar Land" (Theater Basel), "Cantatrix Sopranica L." (Grand Théâtre de Reims) etc.
Contemporary music theatre, as it was understood in this competition, includes performances which demonstrate a new development in the art form, be it in score, libretto and/or staging. The competition was open to professional productions which expand the frontiers of the music theatre genre.

With "From Time Immemorial ..." Karmina Šilec introduced once again the concept or method of vocal theatre, called Choregie. With the idea of "Choregie – vocal theatre or theatre of voices" she opened up a wider space for complex multi-form artistic events. Choregie brought freshness and uniqueness by opening new spaces of expression, persuasiveness, intensity of experience and communication into the world of vocal music. Choregie staged productions incorporate music, drama, movement and other stage elements.
The Robert Edler Prize for choral music
For achievements in choral music, important role and a strong influence on the development of world choral movement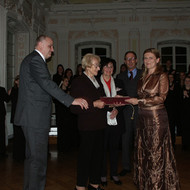 KARMINA ŠILEC AWARDED BY IMPORTANT INTERNATIONAL AWARD
The prize, named after the German composer Robert Edler, has been awarded every year since 1999 to a conductor, a composer, a choir or an institution which visibly contributed to the international choral movement. The award is donated by Tonos Musikverlag and the widow of the composer, Hedwig Edler.
The selection of award winners is done by the International Chamber-Choir Competition Marktoberdorf and the Musica Sacra International Festival who appointed an international jury composed of Prof Dr Royce Saltzman (USA), Prof Misukazu Suwaki (Japan), Prof Erkki Pohjola (Finland), Prof Peter Erdei (Hungary) and Dolf Rabus (Germany).
From the explanation:
"Artistic and pedagogic achievements of Karmina Šilec reach the highest level of creative work with the young, and she is considered to have an important role and a strong influence on the development of world choral movement."
The prize winners have been the most prominent names of the world music scene:
Tõnu Kaljuste, Estonia (1999) – conductor of the Estonian Philharmonic Chamber Choir, the Tallinn Chamber Orchestra, and a guest conductor of various orchestras and a recurrent nominee for the grammy award; Frieder Bernius, Germany (2001), conductor of the Stuttgart Chamber Choir, the Tafelmusik Baroque Orchestra and Chamber Choir which regularly record for Sony; the World Youth Choir (2002), an international youth choir of the IFCM (International Federation for Choral Music, Jenunesse musicale and Europa Cantat), Unesco Artist for Peace; Maria Guinand, Venezuela (2000), vice-president of the IFCM, and conductor; and Stephen Leek, Australia (2003), composer.
The Prešeren Fund Award for project Vampirabile
KARMINA ŠILEC WINS THE PREŠEREN FUND AWARD
The conductor Karmina Šilec was awarded for the project Vampirabile, premiered with the choir Carmina Slovenica in April 2000 in the Gallus Hall, Cankarjev dom, Ljubljana.
"Karmina Šilec has been contributing greatly to our cultural arena for years with her fresh and innovative approach to choral movement. Her influence on the development of Slovene youth choral singing and the growth of Slovene choral creativity is outstanding. She achieved one of her most convincing interpretative heights with the project Vampirabile, performed with the Carmina Slovenica choir.
Vampirabile gives a superb choral message in all segments, comprised of works of various contemporary composers, ingeniously linked into a dramaturgical whole. Precise singing discipline, youthful energy, imaginative and artistically convincing music and set design are the elements that distinguish the performance which creepily and intensively spreads out into the silence and the scream of musical narration. A rich and secret world of myths, legends, spells and pleas lures us with its intertwinement of imagination and reality of nature and man, belief and experience, hope and anxiety, powerfulness and helplessness …"
The Glazer Credential
for achievements in the field of music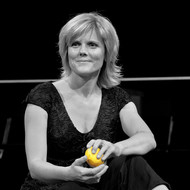 KARMINA ŠILEC RECIEVES GLAZER CREDENTIAL
Karmina Šilec was granted the Glazer Credential for her achievements in the field of music. Each year the Municipality of Maribor grants one Glazer Award for the lifetime achievements of a chosen artist, and three Glazer Credentials for distinctive production in the field of culture to artists or cultural institutions.
The Gallus Plaque
for remarkable artistic achievements and artistic contribution to the development of Slovene culture
KARMINA ŠILEC AWARDED THE GALLUS PLAQUE
The Republic of Slovenia Public Fund for Cultural Activities awarded the conductor Karmina Šilec the Gallus Plaque – the highest award of the Public Fund for outstanding artistic achievements in the field of music – that is, for her remarkable artistic achievements and her artistic contribution to the development of Slovene culture.
"… Karmina Šilec has not limited herself to the development of choral interpretation. With innovative interventions she opened for choral music a wider space in terms of complex multi-media artistic events. Thus she has – based on extensive research – created a series of comprehensive programmes in terms of style and themes, such as Vampirabile, Scivias, Musica Inaudita and Adiemus. These were interesting due to the choice of musical material, however, their real dimension is reflected in complex executions which logically complement their musical tissue with the elements of musical theatre.
Through her work Karmina Šilec brought freshness and uniqueness into the world choral movement and opened up new spaces of expression, persuasiveness, intensity of experience and communication.
The highest award of the Republic of Slovenia for outstanding artistic achievements in the field of music highlights her important contribution to the development of amateur cultural activities, particularly in the field of music and choral movement with which she significantly contributed to the image of Slovene national culture."
The Ford Award
for preservation of natural and cultural heritage for the project Slovenian Sounds
FIRST PRIZE OF THE HENRY FORD PROGRAMME
The Carmina Slovenica Choir is the winner of this year's Ford Motor Company Conservation and Environmental Grants programme. The project Slovenian Sounds, followed by the release of a CD Citira – Slovenian Choral Opus II, was praised for its model or rather its approach to music.
Its basic element is full comprehension of Slovenian music and, in a broader sense, Slovenian spiritual heritage; the choir applies this awareness to modern creative forms of expression.
With interpreting synthesis of folk songs, dance and music, the choir manages to avoid the usual trap of pursuing nostalgia, or transforming into a 'living museum'. Folk heritage for Carmina Slovenica forms a model for today's creativity and creations, which comprise characteristics, features, particularities and differences – ingredients that are essential for creating modern life enriched with the dimensions of heritage … in Maribor, in Slovenia and the world!
In the name of the jury, composed of Jožef Školč, Jerneja Batič, advisor to the Government for cultural heritage, Prof Dr Janez Bogataj, Rok Frey, General Director of Summit Motors Ljubljana, and Mirko Vaupotič, youth work consultant, the prize was awarded by Jožef Školč.