Documentary film Placebo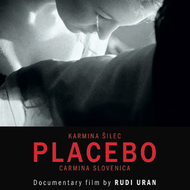 Carmina Slovenica gained world-wide reputation for their power of communication through choregie projects. The success of the artistic leader Karmina Šilec and the performers are performances that are vibrantly theatrical, genre-blurring, unusual in their techniques, eclectic in their musical style - all blurred into visceral emotions and reactions.
The documentary Placebo takes the audience on an audio and visually stunning, sensual journey of discovery into a new dimension: straight into the backstage, the intimacy of the workshop. The camera follows the creation and realization of the project Placebo and offers an insight into the choregie concept and method.
Direction, camera and editing: Rudi Uran

Music: G. B. Pergolesi, J. S. Bach, J. Cooper, A. Vivaldi, P. Vasks, G. Bryars, K. Šilec
Exhibitions
Opening new exhibition venue and the exhibition, 2011
Choregie – New Music Theatre and festival, 2012
Happy New Ears, 2012 – the composer's John Cage jubilee installation
International Attacca, 2013 – exhibition on international Attacca project
50 impressive seasons, 2014 – exhibition on the 50th anniversary of Carmina Slovenica
International Attacca, 2014 – exhibition on international Attacca project
50 impressive seasons, 2014 – exhibition of CS Editions