Ensemble ¡Kebataola!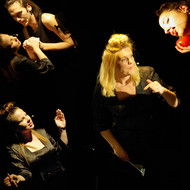 ¡Kebataola! is an ensemble based in Slovenia and established by its artistic director Karmina Šilec.

The repertoire of the ensemble ¡Kebataola! is drawn from three principal areas: medieval music (chant and early polyphony), contemporary, avant-garde music and ethnical music. The ensemble is dedicated to the study and performance of the vocal repertoire in the music of our time − of the twentieth and twenty-first centuries. Depending on the repertoire, the ensemble adjusts its size to perform from solo to chamber or choral works.
¡Kebataola! is noted for its innovative programming which explores works from the 9th century to the forefront of the contemporary music scene. The ensemble's interest is research: exploring new sounds, new vocal techniques and new forms of articulation. Central to the group's artistic concept are the areas of music theatre and interdisciplinary work with electronics, video, the visual arts and literature, as well as the juxtaposition of contrasting elements found in ancient and contemporary music. The repertoire of ¡Kebataola! is designed to inspire and stretch the singers and the listeners in an active yet contemplative way, just as our own faith can be simultaneously inspired and challenged on a daily basis.
In the field of ethnic music ¡Kebataola! performs chants, songs and arrangements of folk tunes from Sweden, Ukraine, Africa, and Slovenia to vigorous Balkan music.
¡Kebataola! encourages the new, the surprising, and the insecure in music. Its repertoire reflects anintensive confrontation with the varying aesthetical facets of contemporary works, a platform for authentic performances of contemporary compositions. Its goal is to place contemporary music successfully in public cultural life and to replace the traditional hierarchical structures generally found in the everyday life of musical practice.
Some of the highlighted projects:
Stabat Mater - Letter to a son (2019, festival Liebevolle Schöpfung, Italy)
Intono: Musical response to marvles (2018, Choregie concert series)
David Lang: The little match girl passion (2018, Choregie concert series)
Gavin Bryars: Laude Cortonese (2018, Choregie concert series)
Women's delights (2012, Choregie aka Choregie festival);
Who'd have thought, that snow falls (2012, Choregie aka Choregie festival);
Miracles (2011, Choregie aka Choregie festival);
Vertical thoughts (2010, Slovene National Theatre Maribor);
Ursonate (2009, Art Gallery Maribor);
Spixody/Stripsody 3 (2008, Linhart Hall, Cankarjev dom Ljubljana);
CS Light (2007, Gallus Hall, Cankarjev dom Ljubljana);
Stripsody 2 (2007, Ljubljana Old Power Station);
Stripsody 1 (2005, Old Hall, Slovene National Theatre Maribor).