Choregie Concert Series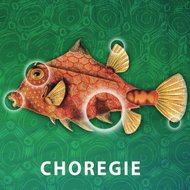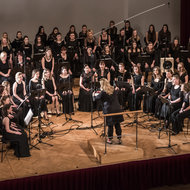 VOGP Music of survival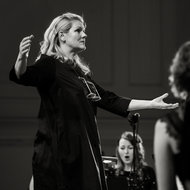 VOGP Music of survival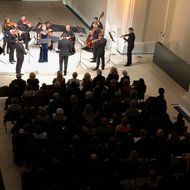 Meetings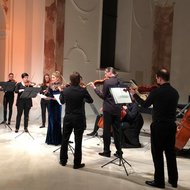 Meetings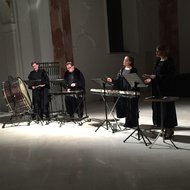 The Little Match Girl Passion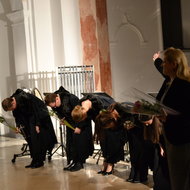 The Little Match Girl Passion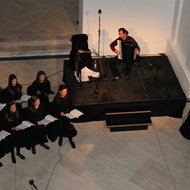 Six Houses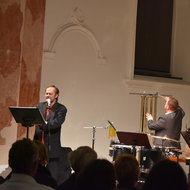 Sounded Sculptures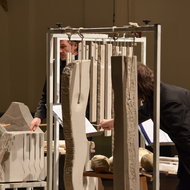 Sounded Sculptures
Since its establishment in 2009 Choregie has been encouraging the performing of early music, contemporary music literature and ethnic music. Through the Choregie concert series concerts by prominent Slovene and foreign artists as well as Carmina Slovenica's own production of music and music-scenic projects have been brought to cultural settings of cities and of Slovenia in general. The programme idea of Choregie has so far been realized through several in-house productions (Who Would Have Thought That Snow Falls, What Have You got against Peasants, Lady?, Vertical Thoughts, Die Ursonate, Laude Cortonese, Miracles, Spixody, etc.), three Choregie international new music theatre festivals, and a music theatre competition. Choregie has featured several prominent artists, such as Jaap Blonk, Bernhard Landauer, Miguel Azguime, Musica Cubicularis, Slovenian Philharmonics Choir, Bojan Gorišek, Janez Škof, Nathalie Pubellier, Jovana Popić, Vasko Atanasovski, Kebataola, Sabina Cvilak, Izidor Lajtinger and others.
The programme of this season is again bringing to our Slovene audience music of the times past in collaboration with contemporary art. The Choregie concert series are bringing music that can rarely be heard on Slovene stages and is therefore bringing a certain freshness – thus becoming 'new music'. The renovated Minorite church in Maribor was chosen as the main venue this year. Will early music and the music of our time cohabit well together, that is something you can find out if you dedicate a few evenings to the company of Slovenian and foreign artists.

INTONO, 22. 3. 2018 at 7. p. m., Minoriti Church Maribor
Carmina Slovenica, Ensemble !Kebataola!

VOGP Music of survival, 2. 3. 2018 at 8. p. m., Union Hall, Maribor
Vocal orchestra VOGP, Karmina Šilec
David Lang: The Little Match Girl Passion, 7. 1. Minoriti Church, Maribor
ensemble !Kebataola! (Neža Vasle, Anja Šinigoj, Tine Bec, Jaka Mihelač), artistic director Karmina Šilec
Meetings, 31. 1. 2018, Minoriti Church, Maribor
The Slovene Philharmonic String Chamber Orchestra and Nika Gorič (soprano)
Sounded Sculptures, 21. 10. 2017, Minoriti Church, Maribor
SToP - Slovenian Percussion Project and Jure Ivanušič, actor
Carmina Slovenica, conductor Karmina Šilec
Six Houses, 11. 11. 2017, Minoriti Church, Maribor
Marko Hatlak (accordion) and Carmina Slovenica, conductor Karmina Šilec
Ticket: 15,00 EUR
You can buy the tickets at the Box Office of Puppet Theatre Maribor.