DERT endemic songs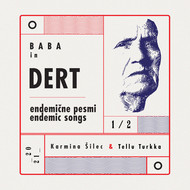 CD / 2021
DERT endemic songs - a double CD, a book and a concert is part of choregie project BABA
*DERT - premiere of full album of choir music entirely recorded on smartphones
CD 1/2 music: Tellu Turkka
CD 2/2 texts: Karmina Šilec
performed by: CHOREGIE New Music Theatre & Nezka Struc
Slepica, Medi and other characters could be over a hundred years old. They were deeply asleep for a long time, but are awake now. They were summoned from the past and from afar. They stare at us with their piercing eyes, as if they were half alive and half dead. Their stories are an echo of howling remorse that the heroines awaited for years, decades, even centuries in theinvincible despair of forced muteness. Their tempo is different, time flows at a strange pace: decades for the birth of a son, a few days for a fatal shot, one day for the victory in the greatest war, a moment only for a wedding, a dance, or a funeral. The milk of ancient melodies and epics drips from the narrative like the greatest miracle, like a healing topping for women whose tied breasts and mouths are drained from fatigue.
We share habitats and habituses withthe heroines of DERT in anextended time through the experience of touching and overlapping on some edges, and thus creating a secret commitment to belonging – the same coordinates, sometimes the same codes. We belong to what we understand, both present and absent. They are our rearview mirror – everything seems to be close here and far behind simultaneously. Real and unreal at the same time.
DERT is a canvas on which the contents of the consciousness of our society, its fears, beliefs, doubts, states, questions, problems, pleasures, the history and the present, behaviors and nonsense, desires are projected.
DERT is also reminiscent of a deadacholicsocial narrow-mindedness that condemns every step and every action; it sang the last praises to the heroines with a vocabulary adorned with wonderful notions such as tradition, family, heroism..., and hid behind them theprimitivism, mythomania, misogyny, as well as perversion and lies.
It reminds us of who created and buried the heroines – sworn virgins, virdžinas – Liljana, Suni, Lindita.
Performing
performed by: CHOREGIE New Music Theatre
Ana Babič, Amina Bašić, Petra Kozar Bežan, Mojca Borko, Nuša Breznik, Jasmina Črnčič, Simona[sk1] Eder, Julija Gaube, Eva Germ, Sintija Habjanič, Barbara Juteršek, Mojca Kamnik, Alja Lačen, Kaja Lekš, Mirjana Mandič, Biserka Petković, Nina Pušenjak, Kaja Rutar, Ana Sandrin, Nežka Struc, Ana Studen, Neža Šauperl, Livija Toure, Sara Toure
reading: Nežka Struc
artistic director: Karmina Šilec
head of recording and first editing: Mojca Kamnik
mastering: Danilo Ženko
From the Press
Human behavior is dictated not only by the living conditions, but also by the decisions a person makes. In different circumstances, in the most favorable or in the most difficult ones, we remain different. But in extreme conditions much more is revealed. In the way we respond, we always remain free. When our lives seem to start losing their former meaning – which can happen to anyone – we all wonder where this void comes from and what can fill it for us. Man is just a being who lives for someone and/or something.

The DERT endemic songs project was created entirely during the rule of the coronavirus. In the midst of the mighty unmanageable natural forces, as an expression of human creativity and power, music came in.Human, or even more than just 'human', it worked in this anxious time as we helplessly watched the stagnation of the whole world. Music as a guarantee of the meaning of the world brought to the brink of disaster. We absorbed the sounds and our thoughts drifted away from fear and loneliness, and recalled the beauty of our previous lives.

The rehearsals were conducted at home, individually, occasionally online. The performers used smartphones to record their own sections of the work-in-progress at home, which we later stitched together into the present recordings.

That is why this album is a remarkable document of this special period, dedication and focus of singers. The recordings we created gave sound to the mysterious power and spirit of the music, captured the lost moments in time, drove away the gloom, uncertainty and fear. They are a testament to this time.

(Karmina Šilec)
Program
1.songs from afar 4.36
2. glass masks 5.00
3. ancient vocabularies 4.34
4.stealing life of father 4.47
5. poetic galaxies 3. 37
6.pleasures of touch 3.25
7. last rite 3.59
8. up again 3.36
9. incantations 3.12
10. heaven 4.47
11. coffees 3.28