Drum Café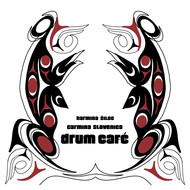 CD / 2009
Voice and percussion were the first and the strongest musical instruments through all periods and civilizations. They have accompanied every important event in human life: from life's rituals and passages (birth, initiation, death ...), religious rituals, social life, meditations and even wars.
The CD Drum Café brings a fresh selection of music for voices and percussion instruments. The connection between singing and drumming is a challenge for many contemporary composers and their works are an interesting counterpoint to the music based on folk tradition.
This diverse program consists of works coloured by the ethnic flair of the European North and East in their typical vocal techniques, Indian chants and avant-garde chamber music arranged for voice and percussion.
Conductor and author of the project: Karmina Šilec
Performing
Carmina Slovenica, voices
Ensemble İKebataola!, voices and percussions
SToP, percussions
Nino Mureškič, Jam-bashi, percussions
Zvezdana Novaković and Eva Bračič, ethno vocals
Darko Rošker, tube
Music preview
From the Press
Bosiljka Kempf, Večer
… artistic perfectionism and incredible creative energy of an artistic personae …
Program
Adriana Hölszky: Vampirabile / Failing Light
Karin Rehnqvist: Puksånger / Timpanum songs
Two white doves
Sji olwått
The woman has long hair and short mind
Ron Jeffers / Karmina Šilec: Pred starimi materami / In front of old Mothers
Morton Feldman: Vertical Thoughts 5
Halyna Ovcharenko: Invocation of Rain