Following the sun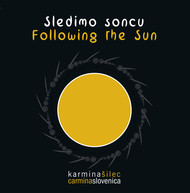 CD / 1998
Following the Sun is a CD by Carmina Slovenica containing compositions of different styles and genres. The pieces are selected from the world's treasury of choral music for female voices – from Latin American, Finnish, Estonian, Eskimo Australian, African to Slovene music. A genuine journey all over the world.
Conductor: Karmina Šilec
Performing
Carmina Slovenica Choir
From the Press
Bogdan Učakar, Delo

True virtuosity. Carmina Slovenica is has be achieving fascinating successes. There has not been such a youth choir in Slovenia before. Their artistic value is not only in their beautiful, harmonic and devoted singing, but also in that the choir as a whole is cultivated and perfected in all interpretational approaches. The artistic ambition of Karmina Šilec, the choir's discipline and autonomy are the qualities that make the choir the best among the best.
Program
Pablo Casals: Nigra sum
Pascale Denis & Laurina Vasques: Aires de Quisqueya
Herman Rechberger: Postojna
Veljo Tormis: Lauliku Lapsepoli
Benjamin Britten: This Little Babe
Stephen Hatfield: African celebration
Alberto Grau: El Barquito
G. P. da Palestrina: Recordata
Frank A. York: Monkey and Tortle
Sy Miller & Jill Jackson / arr. Mark O'Leary: Jaz dam svoj glas za mir
Eduardo Lakschewitz: Sambalele
Jean Sibelius: Finlandia Finlandia Hymn
Ramon Noble: El Jarabe Tapatio
Stephen Hatfield: Nukapinguaq
Antoni Ros-Marba: Mountanyes regalades
Radovan Gobec: Ne ouri, ne sejaj
Giovanni Battista Pergolesi: Fac ut ardeat