Musica Inaudita II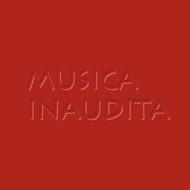 CD / 2010
The second CD from the Musica Inaudita series presents a repertory of medieval music which was written by cloistered female composers who worked in the period between the 9th and the 13th centuries.
The style and structure of the music included in the programme vary – from meditative chants to brilliant polyphony. However, despite the differences a general aim can be traced, as if in response to the silent forces of supernatural moments when the paths of humanity and divinity are crossed, the composers marked their work and then modelled it into an artistic reply to the Christian story, each separately and in their own way. Intellectually as well as personally this music reflects how powerful and passionate the motivation of a faith can be.

With this program Carmina Slovenica wrote a part of human history in year 2002 as the first women ensemble, not being part of choir of the Sistine chapel, to sing at a Pope's ceremony in St. Peter's Basilica in Vatican, breaking the taboos of Catholic church - "mulier tacet in ecclesia".
Profound humanistic and theological roots of the lyrics offer a solution which enables the singers and the listeners to experience an upward spiral connectivity of the spirit and the impersonation of human voice. This music reflects the passion with which a human being strives for a creation of a bond of the soul which reaches from earth to heaven.
Conductor: Karmina Šilec
Performing
Carmina Slovenica Choir
From the Press
Jure Dobovišek, Delo
… with beauty and unbelievable fullness of the choral sound, tense interpretations … It seems like it is not difficult to be brilliant if you are curious, if you have an artistic goal …
Program
Kassia: Tin pentahordon lyran ke pentaphoton lychian
Hildegarda from Bingen: Sequentia de sancto Maximino / Columba aspexit
Codex Las Huelgas: Benedicamus Domino I.
Benedicamus Domino II.
Ave maris stella
Solfeggio
Benedicamus Domino III.
Flavit auster
Casta catholica
Hildegarda from Bingen: O, successores
Kassia: Tin pentahordon lyran ke pentaphoton lychian