Pleading for words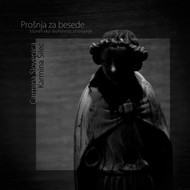 CD / 2011
Music, especially singing, and the word have served to create a connection with the gods, with spiritual worlds. Pleading for Words is a special architecture of music and the word that outwardly expresses contact between very different aesthetic criteria but glows with the same devout message: a personal spiritual testimony.

The program concept is based on the attitude toward primary spirituality: from intimate thought to more outwardly expressed manifestations. Slovenian spiritual creativity can be summed up in threefold diversity: confessional, agnostic, and atheist. These works express categories of the incomprehensible, irrational, mystic, and metaphysical. Mysticism is connected with transcendence. This involves a personal testimony about spirituality and a direct reflection of the spiritual world.
This juxtaposition of Slovenian early music and Slovenian poetry and music of the twentieth century produces a moving confrontation, contemplation, and spiritual experience.
Music by the composers Georgius Prenner, Daniel Lagkhner, and Lojze Lebič and the poetry of Srečko Kosovel, Gregor Strniša, Milan Jesih, France Balantič, Dane Zajc, Edvard Kocbek, France Forstnerič,Tomaž Šalamun, Alojz Gradnik, and Cene Vipotnik have convergences in the spiritual, which works timelessly, eternally, and openly.
Conductor: Karmina Šilec
Performing
Carmina Slovenica

Jožef Ropoša, interpreter of the poetry
From the Press
Melita Forstnerič Hajnšek, Večer

… a refined sense for paralleling artistic spaces, the present and the past, the sacral but also the agnostic, and even the atheistic.
Program
Gregor Strniša: Bogovi
Gregor Strniša: Barbarova molitev
Daniel Lagkhner: Quare tristis anima mea?
Edvard Kocbek: Bregovi sveti
Milan Jesih: Gledam pokrajino: Tesna dolina
Daniel Lagkhner: Miserere mei, domine
France Forstnerič: Zgodnja maša
Alojz Gradnik: Božje obličje
Daniel Lagkhner: Non nobis domine
Cene Vipotnik: Hotel si, mojster
France Balantič: Prošnja za besede
Georgius Prenner: Confitebor tibi domine
Tomaž Šalamun: Tebe gospod
Georgius Prenner: O deus
Srečko Kosovel: Želja po smrti
Tone Kuntner: Strašno kletev imam na jeziku
Georgius Prenner: O sacrum convivium
Srečko Kosovel: Psalm
Lojze Lebič: koral iz skladbe Upanje
Dane Zajc: Križev pot
Lojze Lebič: Upanje