Toxic Psalms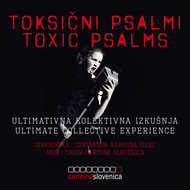 CD / 2015
Ultimate Collective Experience
The almost sinister thought "I'll tell you. You're young, but you're one of us, and I'm one of us, so I'll tell you." gives the Toxic Psalms its tone. Death speaks and murderous plague intones in the background of the whole concert arch.
Scenes move between different spiritual worlds of the past and the present. The setting is an imaginary world moving among the shadows of our ancestors and is a reflection of modernity at the same time. Toxic Psalms are a reflection of the spiritual anguish of today. The life of a man is changed into a drama here and now: men killing for the glory of their psalms.
CD Toxic Psalms brings repertoire on which succesful ansambel's choregie project with same title is based.
Author of the project and conductor: Karmina Šilec
Performing
Conductor: KARMINA ŠILEC

Choir: CARMINA SLOVENICA
Percussion: Slovenian Percussion Project
Accordeon: Marko Hatlak
Strings: Musica Cubicularis
Music preview
From the Press
... the true highlight is the singing …
Opera World
... electric in its musical style …
New York Times
… a sonically thrilling …
New York Music Daily
... jaw-droppingly gorgeous singing …
New York Observer
... an overwhelming aural and visual experience …
Theatre Mania
... innovative, hugely diverse repertoire...
… a very haunting, expressive, strong production…
… whether they hum, whisper threateningly or let a piece die away solemnly in the most beautiful pianissimo; whether they sound oriental or remind us of Bulgarian female choirs in their tone: the voice and sound training of these 14 to 23-year-olds as well as the width of their singing techniques and styles are impressive …
Chorzeit

… musical narration of Carmina Slovenica is intensive, persistent, suggestive; solo parts are amazing, from the point of view of sound as well as interpretation …
… a performing body with endless expressive abilities …
… the ensemble has now been famously known for its singing variability, it impresses particularly with virtuosic mastery of various world languages, and even more so with creation of vocally diametric expressions …
Urša Šivic
… Carmina Slovenica, a women's ensemble that is merging choral music and theater to create powerfully moving programs ...
… Carmina Slovenica's tremendous energy and bright vocal timbre make this an exciting, infectious proclamation …
… Toxic Psalms is a fascinating album. Carmina Slovenica should be praised for their inventive and thematic programming and for their commitment to presenting substantive choral music as a part of meaningful choreography and compelling visual elements ...
… they impressively alternate between vocal timbres …
… Toxic Psalms is a moving merger of choral performance, dance, and theater. Carmina Slovenica's efforts should be examined as a potential model for other vocal ensembles in their efforts to create performances that connect with modern audiences ...
ICB, Tobin Sparfeld
... the moving power of "those screaming in the desert" ...
… the mere sound message of the new project Toxic Psalms by Carmina Slovenica is so strong that it is not difficult to imagine an appropriate inscenation. With fascinating sound images, with texts from different eras...
Večer, Tone Žuraj
Program
Bronius Kutavičius: Paskutines pagoniu apeigos / Last Pagan Rites
Karin Rehnqvist: Puksanger / Timpanum songs
Tellu Virkkalla: Tuullet / Winds
Liga Celma: Sauceja dziezma / A Song
Lojze Lebič: Mozaiki / Mosaics
Sarah Hopkins: Past Life Melodies
Sergei Rahmaninoff: Bogorodice djevo / Rejoice, O Virgin
John Pamintuan: De profundis / From the Depths
Maronit hymn (arr. K. Šilec): Wa habibi / My Bellowed
Boaz Avni: Kyrie eleison / Lord, Have Mercy on Us
Veljo Tormis: Raua needmine / Curse Upon Iron
Jacob Cooper: Stabat Mater Dolorosa / The Sorrowful Mother Stood
Giovanni Battista Pergolesi: Sancta Mater speciosa / The beautiful mother stood (from Stabat Mater)