When the mountain change its clothing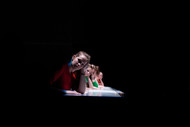 CD
Music theatre by Heiner Goebbels
Production was awarded with Golden Mask Award for "Best foreign production, presented in Russia in 2015"

"When the Mountain Changed its Clothing" draws its inspiration from the Resian folk song Da Pa Ćanynu, reflecting on the seasonal changes on the mountain of Kanin. The old is no more, yet the new remains out of reach. On this threshold the ensemble Carmina Slovenica plays seemingly harmless games, recites texts by J. J. Rousseau, Gertrude Stein, among others, and performs songs - creating poetically threatening images.

The CD "When the Mountain Changed its Clothing" brings choir and chamber works from the repertoire of Carmina Slovenica that are performed within this music theatre work – both as fragments or entire compositions. This selection features works from Slovenian heritage – with original compositions and arrangements of folk music, medieval polyphony, ethnic music, partisan songs and contemporary works by distinguished composers.

Production of the music theatre "When the Mountain Changed its Clothing" by Ruhrtriennale  International Festival of the Arts 2012 Coproduced with Steirischer Herbst (AT), Maribor Theatre Festival / Festival Borštnikovo srečanje  European Capital of Culture (SI), Théâtre de la Ville and Festival D'Automne Paris (FR), Grand Theatre Luxemburg (LU), Kunstfestspiele Herrenhausen (DE), Holland Festival Amsterdam (NL) and Kunstenfestivaldesarts Brussels (BE).
Music: Johannes Brahms, folk tunes, from Codex Las Huelgas, Lojze Lebič, Sarah Hopkins, Arne Mellnäs, Karin Rehnqvist, Victor Paranjoti, Marjan Šijanec
Conductor: Karmina Šilec
Performing
Carmina Slovenica
From the Press
Financial Times
Much skill is displayed in this tightly crafted piece. The Carmina Slovenica (under conductor Karmina Šilec) is a phenomenon in itself, with its mesmerising combination of steely discipline with exuberant physicality. The sound is often the hard-edged chesty bray we associate with women's choirs from the former Eastern Bloc, but the young singers can shift to clean, honey-toned romanticism or glassy polytonality in the blink of an eye.
Program
Music selected from Carmina Slovenica editions
Lojze Lebič: Zima, released on the CD TIMES AND PLACES
Arne Mellnäs: Aglepta, released on the CD VAMPIRABILE, live
Karin Rehnqvist: Puksänger, released on the CD DRUM CAFÉ, Ensamble SToP, Zvezdana Novaković, Eva Bračič, live
Folk tune from Resia: Da citira Kafölawa, GNI record, arr. by Karmina Šilec, released on the CD CITIRA
Johannes Brahms: Der Gärtner (from Vier Gesänge, Op. 17), released on the CD CM1, Radovan Vlatkovič (horn), Andreas Stopfner (horn), Nicoletta Sanzin (harp), live
From Codex Las Huelgas: Benedicamus Domino, released on the CD MUSICA INAUDITA 2, live

Folk tune from Resia: Da pa Canynu, GNI record, arranged by Karmina Šilec, released on the CD CITIRA
Victor Paranjoti, arr. Karmina Šilec: Dinana Ditiramb, released on the DVD PERSPECTIVE EAST
Nino Murečkič, percussion, live
Marjan Šijanec: Gayatri Mantra, released on the DVD PERSPECTIVE EAST, live
Folk partisan circle dance: Kozaračko kolo, arr. by Karmina Šilec, released on the LP and CD NA JURIŠ IN THE MOOD!, live
Sarah Hopkins: Past life melodies, live from the concert Scivias