Nolite tacere / Translated in Music digital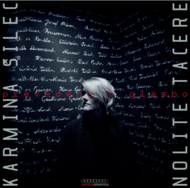 Book / 2020
AVAIABLE AS
EPUB, which you get on email
BIBLOS.SI
Author: Karmina Šilec

The book Nolite tacere by the conductor Karmina Šilec – about her work with the choir Carmina Slovenica, her original, outstanding, exploratory approach in music and scenic arts – is a collection of exciting chapters with the titles such as God's Gift, Magic Gestures, High Jumps, Antidepressants of King Savel, Somebody in Another Time will Remember us, A Toad for Breakfast, and others.
The texts are collections of thoughts related to the creative processes of the music collective, to motivation, inspiration, history of vocal music and other themes important for the author's music and pedagogical work. Nolite tacere encompasses the artistic credo, the methods and techniques of directing an artistic corpus, the creative approaches which are hugely successful around the world. The book thus reflects authoress' unique artistic practice and offers a profound insight in the matter, in the background of what Carmina Slovenica is.
The texts compiled in the book have been written over a longer period of time and served mostly as a reflection on the themes she later put on concert stages, and about themes that are important to her artistic work. Some of them were published in various professional and popular publications in Slovenia and abroad, some used as basis for lectures, others accompanied projects in the programme booklets.

Excerpt from the book:
A concert or a music-scenic project is usually in the making for a couple of years. I start studying the basic idea that interests me and search for materials: texts, studies, visual materials, scores, records and similar. I select interesting segments, I memorize them, store them and slowly compose a whole. During this process there are often notes which are a kind of summary of what took part in the creative process. A large collection of sources, some of them I forget where they come from, ideas and thoughts gradually contracts, filters and blends, and what remains are the notes collected in this book.
* The book is in Slovene language only.
From the Press
... The Slovene conductor and artistic director Karmina Šilec subtly caught between the covers of her beautifully designed book her artistic spirit and offered to the readers her own thoughts, interviews, intimate and inspirational ideas as well as her year-long music explorations. The texts, which often took shape during the making of the concerts of Carmina Slovenica and other complex projects, are witnesses that with her daring, socially and musically provoking ideas the author breaks with the taboos and courageously enters the as yet unexplored artistic landscapes. She speaks up for the music which calls for different listening, contemplates the cultural identity of the nation, the role of music pedagogues and conductors. She is inspired by a sensitive intertwining of music and movements, by the great power of gospel and spiritual, she thinks about the healing power of music, the discovering of the spirit in the sound, and much more. She writes a sentence somewhere, saying that "…all good music creations require hard work and discipline, lots of talent and will, lots of love and giving", and after reading this book one can claim without doubt that Karmina Šilec has got all of it andmore. Renata Ruglej, BUKLA
... One has to get to effective strategies oneself, there are no royal shortcuts leading there, which is the reason why Karmina Šilec is uncatchable and always a big step ahead of the competition.This is not a dull didactic aid, the book is interesting reading in which pedagogical principles, contemplations are intertwined, reaching into various fields of creativity, as well as memoirs which illustrate the outstanding concert path of the most eminent choir in Slovenia. Peter Rak, Delo
... Due to the versatile knowledgeableness in music and suggestiveness of texts, the book Nolite tacere / Translated into music can be ascribed an exceptional didactic meaning…


…… the book Nolite tacere / Translated into music by Karmina Šilec reveals all those intellectual, psychological, philosophical and spiritual layers which an individual – more or less hidden from the eyes of her performing group and the public – lives in her own artistic daily routine.

Urša Šivic, Odzven