Documentary film Placebo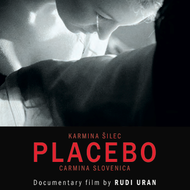 Finally! It's out there - and available!
Documentary film PLACEBO on making choregie project … journey of explorations, curiosity ... way into thinking about connections of body and mind, stage directing, visual parameters, "motion", "sculpting", ...
Available at webshop
MORE:
Documentary film Placebo takes the audience on a sensual, audio and visually stunning journey of discovery into a new dimension: straight onto backstage, into intimacy of a workshop. Camera follows the creation and realization of the project Placebo and offers an insight into choregie concept and method.
Carmina Slovenica gained a world-wide reputation for their power of communication throught choregie projects. The success of the artistic leader Karmina Šilec and the performers are performances who are vibrantly theatrical, genre-blurring, unusual in its techniques, eclectic in its musical style - all blurred into visceral emotion and reaction.
Music by: G. B. Pergolesi, J. S. Bach, A. Vivaldi, J. Cooper and others
Direction, camera and editing: Rudi Uran
Language: Slovenian
Subtitles: English