Thrēnos (for the Throat)
for vocal soloists and sound processing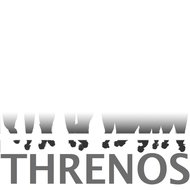 9. 3. 2020, Minoriti, Maribor
...ashamed and ashamed for being ashamed...
Performed by: Vocal theatre Choregie (SI) / Sidra Bell dance (USA)
Composer / concept: Jacob Cooper (USA)
Direction / concept: Karmina Šilec (SI)
Texts: Dora Malech (USA)
Movement: Sidra Bell (USA)
Visuals: Young Joo Lee (KR, USA)
Set: Dorian Š. Petek (SI)
Costumes: Tina Bonča (SI)
Light: Andrej Hajdinjak (SI)
Sound: Danilo Ženko (SI)
The transition from animal to meat is one that intentionally mutes the life and death of its subject. Unlike humans, these animals generally die in concealment, and the dead are not mourned. In Threnos, what is so often hidden behind the scenes is brought onto the stage in a para-liturgical rite, a performance that offers space for reckoning and reflection. Throughout, the throat acts as a kind of locus—a metaphorical and literal site of language, ingestion, song, slaughter, swallowing, and vulnerability, connecting the mourners and the mourned in their shared physicality.