BABA
books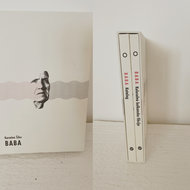 BABA is a canvas on which the contents of society's consciousness, its beliefs, the history and the present, knowledge and delusions are projected. It reminds us of the narrow-mindedness of the society that condemns every step and every action; it sang praises to women with a vocabulary adorned with the notions such as tradition, family, honour, and dignity, and hiding mythomania and misogyny behind them. It reminds us who created and buried the heroines Flora, Liljana, Suni, Lindita.
The Colossal Balkan Fiction book of stories is a portrait collection inspired by the virdžinas – the women who take on a man's name and identity, wear men's clothes, do men's work, smoke, drink rakia, play the gusle ... and join the men's world. The stories talk about the otherness, the institution of sworn virgins, and about the dilemma whether becoming a manis an illusion, violence, or salvation.
The Catalog book is a narrative journey through places and times that bend under the fruits of romantic Western imagination. Homer, the muškarača, the tobelia, the blind womanand Stana live in the region that today we call the Balkans. It creates an intuitive conceptual network between music, the Western view, sweet sorrow, hetero-romantic ideology and Adam's rib, phallocentric gravity and virginity, the way humanity has dealt with it for centuries.