Sounded sculptures
sculpture and music exhibition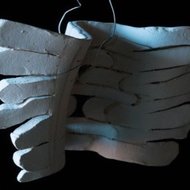 21. 10. 2017, Minoriti Church Maribor
SToP, Slovene Percussion Project
Jure Ivanušič, actor
Concert Choir Carmina Slovenica, conductor Karmina Šilec
The project SOUNDED SCULPTURES encompasses 19 sculptures made of stone (Lipica quarry) and clay. The sculptures – percussion instruments – were created in the process of searching for new sound landscapes. The musicians of the group Slovene Percussion Project and the sculptors experimented; they spent a lot of time in quarries, looking for the sound of stone and clay. The result is fascinating.
(RE)SOUNDING SCULPTURES is a research project searching for sound in stone and clay – the form observes the needs of the sound and gives the material its visual value. The current project presents three lithophones and a few sound sculptures. We would like (RE)SOUNDING SCULPTURES to encourage interdisciplinary synergies – geologists, physics and musicians can find new opportunities in this most primary material. (RE)SONDING SCULPTURES are innovative; they use synergy to deliver the arts of music and sculpture.
Sculptures:
Alenka Vidrgar, MA, sculptor
Dragica Čadež, MA, sculptor
Prof Boštjan Lapajne, MA, painter
Music: sounds of sculptures and stones, new Slovene compositions for percussion and voice
Choregie Concert Series
Ticket: 15 EUR
You can buy the tickets at our web shop or at the Box Office of Puppet Theatre Maribor during the opening hours.