CS Light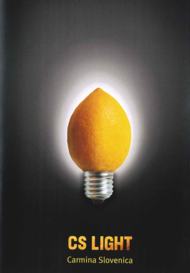 DVD / 2007
The project CS Light has been created to experiment with voices, percussion instruments, body movements and different feelings while performing and listening to musical expressions of the present - minimalist music.
The repertoire of minimalist music chosen for CS Light was written by distinguished composers - not only from the cradle of minimalist music, the USA, but also from other musical environments, such as the Baltics and Scandinavia.
The project addresses people of different musical tastes – chamber and vocal music lovers as well as admirers of ethnic music.
Author of the project and conductor: Karmina Šilec
*
For promotional and study purposes only.
Performing
Carmina Slovenica Choir

SToP, Slovene percussion project
Ensemble İKebataola!
Simona Rafanelli Krajnc, soprano
Zvezdana Novaković, soprano, ethnical voice, narrator
Ula Šegula, soprano
Nadja Stegne, soprano
Eva Bračič, ethnic voice, narrator
Franja Kmetec, Jasna Vantur, organ
Vesna Čobal, violin
Set design: Branko Hojnik
Costume design: Belinda Radulović, Gordana Gašperin
Movement: Tina Dobaj Eder
Light design: David Orešič
Sound design: Danilo Ženko
From the Press
… the Šilec choir is as yet striking, and this time in its absoluteness of concentration and condition ...

Gregor Pompe, Dnevnik