From time immemorial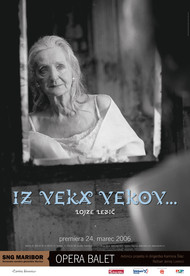 DVD / 2006
As to its form, From Time Immemorial... is an open-ended work, set in an imaginary musical setting. It is not an ode to the past nor directed toward the idyllic. It moves among the shadows of our ancestors who are related to us in every aspect – in joy and sadness, in self-confidence and despair.

The music of From Time Immemorial... does not tend toward a stylistic-aesthetic option. There are magic and symbolism in the foreground. The music moves between vitality and aesthetic reticence, old-fashioned polyphony and the technique of clusters, between the trivial and the emphatically artistic, the spiritual and the naturalistic.
In 2008 Karmina Šilec won an international award for this performance at the world competition for the creators of new opera and music theatre by the Music Theatre Now/ International Theatre Institute.
Author of the project and conductor: Karmina Šilec
*
For promotional and study purposes only.
Performing
Carmina Slovenica Choir

Choir of the National Opera and Ballet Maribor
Ballet of the National Opera and Ballet Maribor
Mateja Bajt, fipple flute
Andreja Zakonjšek, soprano
Bojan Gorišek, Olga peceny, piano
Instrumental ensemble of the National Opera and Ballet Maribor
Director: Jernej Lorenci
Music: Lojze Lebič
Movement: Tanja Zgonc
Set design: Branko Hojnik
Costume design: Belinda Škarica
From the Press
… a subtle reflection on the time and man in time, the infinity of time and the smallness of man, the unstoppable flowing of harmonies and disharmonies, crossroads of forgetfulness and presumptions …

Stanislav Koblar, Finance