Vertical thoughts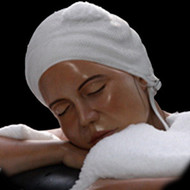 DVD / 2008
About the performance
The audio-visual project Vertical Thoughts is based on the original idea by Karmina Šilec, visual design and direction by Jaka Ivanc. Musical inspiration for the performance came from Morton Feldman's work Three Voices, based on Frank O'Hara's poem Wind. A minimalist current of music is joined by the culture of the eye – an active visual action.
Vertical thoughts are observations of repetitions of the past. We see them as parallel realities. Distinctions between live and dead sounds, live and dead time are blurred. Floating of time and its infinite repetitions on the waterfront and captivity of snowflakes in a snow glass ball.
Thinking about his dead friends and looking at loudspeakers on stage, Feldman wrote that there was something tombstony about them: "I thought of the piece as an exchange of the live voice with the dead ones - a mixture of the living and the dead."
About the author of the music: Morton Feldman, Three Voices
For one of the prominent composers of the previous century – Morton Feldman (USA, 1926−1987) – music became a part of his life in his early years as he started learning the piano and at the same time wrote his first compositions at the age of twelve. In 1949 he met the composer John Cage and their artistic collaboration left a mark on American music of the 1950s. Cage encouraged Feldman to follow his own intuition and to trust it which led to Feldman developing unique, utterly intuitive compositions. He was never constrained by the compositional systems and developed music from one moment into the next, from one sound to the next instead. The people of his circle were creative geniuses such as the composers Earle Brown and Christian Wolff, the painters Mark Rothko, Philip Guston, Franz Kline, Jackson Pollock and Robert Rauschenberg, and the pianist David Tudor. Due to the influence of these painters in particular Feldman started to look for his own unique expression in the world of music. An expression which was more direct and physical than any other he had researched until then. His entire creative career was characterized by musical works that are long, open and quite undefined.
Original idea and music direction: Karmina Šilec

Music: Morton Feldman
Production: İKebataola! and Choregie − New Music Theatre
Performing
Ensemble İKebataola!

Staging: Jaka Ivanc
Video: Jaka Ivanc and Jaka Varmuž
Visual image and costume design: CStudio
From the Press
… the audio-visual project Vertical Thought reached its purpose entirely … Without doubt interesting and most of all appropriately measured …

Peter Rak, Delo