O Successores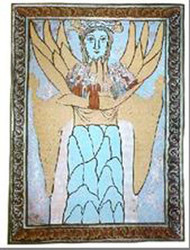 DVD / 2006
Medieval and contemporary music
The program O Successores is a unique combination of the East and the West, of the music of the past and the present.
The music of Arvo Pärt, one of the most eminent composers of our age, and the sound of vocal medieval music are timeless, eternal and open. Being more than a century apart, their sharing of common aesthetic values is amazing. At the same time, they are in constant opposition as seen in Pärt's vocal drama Como cierva sedienta. The medieval songs of the Western and Eastern churches, the early polyphony of Islam, Christianity, and Judaism, weightless instrumental music by Pärt  all these form an opus which creates new states - it can be inspiring, contemplative, causing tension as a consequence of challenge of the past and the present.
Conductor: Karmina Šilec
*
For promotional and study purposes only.
Performing
Carmina Slovenica Choir
RTV Slovenia Symphony Orchestra
Petya Ivanova, soprano
From the Press
… because the Carmina Slovenica choir was again almost painfully perfect. The girls can do practically everything: technical infallibility, the changing of colour and expression, the adjusting of interpretation.

Gregor Pompe, Dnevnik
From our webshop