Placebo or Is there one who would not weep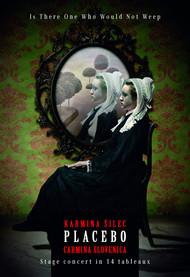 DVD / 2012
Eia mater, fons amoris! – Hail, mother, source of love!
Man surmounts death, the unthinkable, by postulating instead – in the stead and place of thought as well as death – maternal love. That love, of which divine love will be no more than a not always convincing derivative, mother love as the primitive shelter that guarantees the survival. The representation of the maternal is established on the site of that tempered anguish known as love.

A meditation inspired by the suffering of Mary, Jesus's mother, during his crucifixion, and by the medieval text The Sorrowful Mother Stood.
Author of the project: Karmina Šilec
Music: G. B. Pergolesi, J. S. Bach, J. Cooper, A. Vivaldi, P. Vasks, G. Bryars, K. Šilec
Performing
Carmina Slovenica

Sabina Cvilak, Bernhard Landauer, Jožica Avbelj, Olga Kacjan, Slovenian Chamber Choir, Marko Hatlak, Karmen Pečar, Musica Cubicularis, Kaja Lorenci etc.
From the Press
… the performance "Placebo" is a brilliant prelude to the year of culture … a highly stylized and aestheticized inscenation …

Večernji list