Ursonate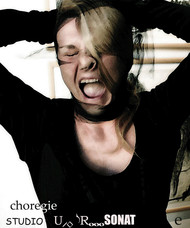 DVD / 2008
Epic Ursonate by the Dada intermedia artist Kurt Schwitters
Experimental performance of sound poetry, performed by the ensemble ¡Kebataola!
The Dada intermedia artist Kurt Schwitters' epic Ursonate is arguably the great sound poem to emerge from various experimental art movements of the early 20th century. Structured in a classic four-movement sonata form, the work explodes language and recasts the fragments as a primal verbal music of disjointed syllables and phonemes.
Artistic director: Karmina Šilec
Music: Kurt Schwitters: Ursonate (1932)
Performing
Ensemble ¡Kebataola!

From the Press
... it was certainly another display of outstanding performing abilities of the members of the İKebataola! ensemble who, by using extended vocal techniques - where voice is considered an instrument and a convincing language in itself -, created a fascinating sound image within which word has its own inner alchemy, weight and colour.

Peter Rak, Delo