Rusalki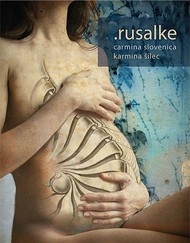 DVD / 2010
Rusalki are miraculous female characters of Slavic tradition. They appear in ancient tunes sang by old women in Russian, Slovak, Belarusian, Ukrainian, Bulgarian, and many other European villages.
Rusalki are restless spirits of women who died accidentally or took their own lives: brides on the evening of their wedding, young mothers at birth of their child, newly-born girls, young women disappointed in love who took their own life.
Rusalki are a symbol of potent, not yet realized female creativity and transformed fertility. Rusalki are myths about death and the dead.
Rusalki are weavers connecting human, animal and vegetal fertility, and natural cycles with weather changes. In folk art they appear with ghostly crowns or as incredible beauties, looking like sirens: half-women – half-birds, half-women – half-fish, young women with wild, unkempt hair …Their image changed according to the climate, the colour of the sky and water.
Pantecost, the period when rusalki come out of water, are marked by ancient rituals of pagan and Christian origin.
Rusalki are being connected with various unusual sounds which can be heard from their dwellings – lakes and forests. Green trees are shelters of the dead. When the Sun is not yet 'out on the road of summer', rusalki, the souls of the dead, stay in the dark and cold depths of the waters. But when these waters are warmed by the rays of the life-giving Sun, rusalki return to the trees, the shelters of the dead. And that is when their screams, cries, laughter and songs can be heard even more clearly.
Author of the project and conductor: Karmina Šilec
Music: V. Atanasovski, S. L. Šuklar, I. Leitinger, U. Pompe, H. Rechberger, I. Bittova, K. Šilec

Poetry: S. Makarovič, E. Vouk, I. Zagoričnik Simonović
*
For promotional and study purposes only.
Performing
Carmina Slovenica

Vasko Atanasovski, wind instruments
Nino Mureškič, percussion
Zvezdana Novaković, voice
Costume design and styling: Belinda Radulović
From the Press
A remarkably imaginative version of a contemporary cultural ritual which works not only as an aesthetic-utopian remake of similar projects of Ancient Greece, but also as a full-blooded synthesis of mythical, historical and topical materials on which it is based … There can hardly be done more; its final impact …

Peter Rak, Delo