Scivias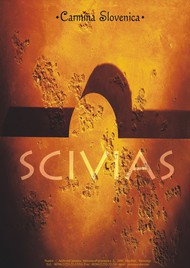 DVD / 2004
Chants from different religions and traditions
A broad selection of chants from the musical wealth of several religions and traditions, including music from Catholic, Muslim, Orthodox, Buddhist, Oriental and pre-Christian traditions, animist religions as well as various other rituals and ceremonies.
This DVD's diverse program consists of original chants from different religions and traditions - from Inuits, Australian aborigines to music from Christian missions as well as contemporary choral works based on chants.
*This program was commissioned by the European Broadcasting Union as a part of the program "Discoveries".
Author of the project and conductor: Karmina Šilec
*
For promotional and study purposes only.
Performing
Carmina Slovenica Concert Choir
Simon Princl, didjeridoo
Nino Mureškič, djembe, drum



From the Press
… their performance is best described as virtuosic: flawless intonation, crisp sound, brilliant, with refined movement (harmonious, resembling dance perfectionism in concluding moments), free-flowing, almost auto hypnotic – defined by an energy flow of an utterly disciplined and ambitious team …

Jure Dobovišek, Delo