Sounds of Asia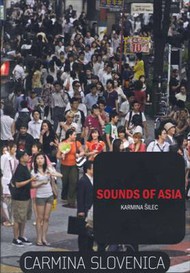 DVD / 2010
A wide range of musical expressions for voices, percussion and ethnic instruments from Bali, China, Japan, Malaysia, Borneo and India. The extraordinary power of sound, voice, music has been recognized and learned by mankind throughout centuries, millennia. It brings joy into our lives, accompanies human rituals and transitions and connects the man with divine or God, something greater than us. Concert Sounds of Asia combines a very wide range of musical expression. Asia features different kinds of culture, which consequently leads to a diverse understanding of the role of music. Asian sounds can be sounds of cosmic spheres, the natural expression of consciousness, ritual songs and music, which cure the body, calm the spirit and carry the sacred to ordinary people's lives. Sounds of Asia include music from Bali, China, Japan, Malaysia, Borneo and India. This kind of music has different meanings: it tells stories, cures, calms the spirits, accompanies social gatherings, entertains or serves in religious ceremonies. Above all these it brings people together in their minds, intentions, knowledge, love.
Sounds of Asia are loving and soothing sound vibrations, which entertain, help to overcome stress and the everyday insanity, they are prayer to Gods and proximity to the one, to whom we refer to with so many different names.
Some songs in the program avoid the melodies and bring sound vibrations and their partial tones, others are repetitive monotonous, some are very rich in a remarkably complex rhythmic patterns, others just fun. In particular, the songs are vocal meditation and discovering the spirit of Asian cultures in the sound.
Conductor: Karmina Šilec
Performing
Carmina Slovenica Choir
Nino Mureškič, percussion
Nadja Stegne, flute
From the Press
The concert choir Carmina Slovenica is, without exaggeration, perfect. Despite having a body of singers resembling that of a chamber ensemble, it has got an incredibly wide scope: from always stable and accurate as well as unaspired pianissimo to a full-sounding forte singing …

Aljoša Škorja, Pogledi