Balkanika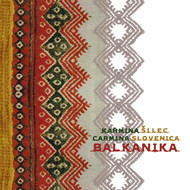 CD / 2011
Carmina Slovenica with guests in Balkan Ethno improvisations

The essence of the Balkan people assembled in music pieces by a wonderful fusion of rhythms humoresque, elegies, love melodies, virtuose improvisations and a sonorous colour of vocals

Balkan music is seductive and hardly ever leaves the listener untouched. Balkanika does not merely touch you, it strongly embraces you. The body responds – with a smile perhaps or swaying with the rhythm. It is temperamental, clear, erotic, brave and open-spirited.
Author of the project and conductor: Karmina Šilec
Performing
Conductor: KARMINA ŠILEC
Voices: CARMINA SLOVENICA
Ensemble: !KEBATAOLA!
Percussion: NINO MUREŠKIČ, JAM-BASHI (Tadej Furlan, Andrej Hrvatin, Damir Mazrek)
Wind instruments: VASKO ATANASOVSKI
Accordion: SIMONE ZANCHINI, JANEZ DOVČ
Double bass: ROBERTO BARTOLI
Violin: ZOLTAN LANTOS
Oud, guitar: IGOR BEZGET
Music preview
From the Press
Bosiljka Kempf, Večer

… a powerful, emotive charge of vocal expression … fullness of expression and power of authenticity …
Program
Puknula, oj!
Oj, momčeto
Ljubovni raboti
Ludo Djore
Šopite ne čuja
Vroče jutro