50 impressive seasons of Carmina Slovenica
We celebrate the 50th anniversary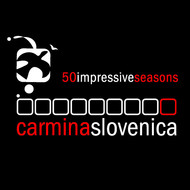 Living with the city!
We firmly started with the year 2014, the year of the jubilee in which Carmina Slovenica celebrates its 50 years of existence. On that wonderful occasion, a monography and exhibition are being in the making, as well as open singing lessons and workshops and other various events. Last but not least, a new CD with the most recognizable and resounding songs performed over the last years is going to be published.

You are kindly invited to the forthcoming concerts of the Carmina Slovenica Choir and the Carmina Slovenica Singing School. We are to occupy and conquer the entire city of Maribor.

Carmina Slovenica in the year 2014 in cooperation with Maribor cultural institutions:
Invocations, 10 Septembre, Evangelical Church, Maribor
Balkanika, 20 June, Festival Lent
Attacca season concert, 8 June, Union Hall, Maribor
Words and Music, 5 June, Under the arcades of wisdom on the forgotten square, Maribor Public Library
Attacca Festival, 5−7 May, Narodni dom, Maribor
Na juriš in the mood!, 16 April, Narodni dom, Maribor
Tehilim, 20 March, Maribor Synagogue
Transferzala, 13 February, CS Lodge, Maribor
Carmina Slovenica elsewhere:
When the mountain changed its clothing, 18–31 October, Melbourne Festival, Australia
Invocations, a concert celebrating the anniversary of the composer Lojze Lebič, 12 September, Prevalje
When the mountain changed its clothing, 26–29 August, Kaserne Basel, Switzerland
Tehilim, 14 May, Synagogue Gorizia, Italy