Na juriš in the mood!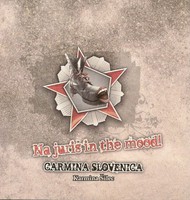 LP / 2009
Na juriš in the mood! with music from the time of the fight against fascism. From music of pre-war Paris, Jewish, French and Italian partisan songs, American swing to Slovenian partisan songs. From Boogie Woogie Bugle Boy, Kiss me Good Night, Sergeant Major, Lili Marleen, Remember Pearl Harbor, Je suis swing, to Kovači smo and Na juriš.
Author of the project and conductor: Karmina Šilec
Performing
Carmina Slovenica Choir

Slovenian Armed Forces Orchestra
Big band of the Slovenian Armed Forces Orchestra with soloists
Janez Dovč, accordion
Marko Črnčec, piano
Matej Hotko, doublebass
Gašper Peršl, percussion
Saša Olenjuk, violin, guitar, harmonica
Darko Rošker, tuba
Nadja Stegne, Zvezdana Novaković, Mojca Potrč, Eva Germ, vocal

Male Choir Srečko Kosovel Ajdovščina
Male Choir KUD Pošta Maribor
Male Choir Slava Klavora Maribor
Music preview
From the Press
Zdenko Matoz, Delo

… the album Na juriš in the mood!, with its collection of anti-fascist war songs from the second world war, is not only a relict, a remainder of time past, but an entirely topical reminder that we should stand for ourselves now too, living in freedom, and especially now!
Program
A
Po dolinam i po zagorjam
Bella ciao
La brigata Garibaldi
Pearl Harbor Blues
Le chant des Partisans
Lili Marleen
In the Mood
Boogie Woogie Bugle Boy
B
Zog nit keyn mol
The Fighting Son of a Gun
Kiss Me Goodnight, Sergeant Major
Je suis swing
Remember Pearl Harbor
Domovina naša je svobodna
Bratje, le k soncu, svobodi
Slovenci kremeniti
Kovači smo
Na juriš
From our webshop