Vampirabile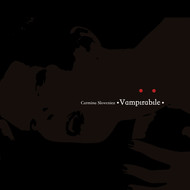 CD / 2007
Mythical worlds – rich, mysterious, and never fully explored… Imagination and reality, nature and man, beliefs and experience, hopes and fears, power and impotence, all softly intertwine there. How distant they are, these worlds, and yet how near!
Nations have their own distinctive mythologies, yet they are all so surprisingly similar. This is why contemporary composers like to draw from mythical motives and produce quite diverse musical works, some of which often turn out to be their most outstanding works of art.
Conductor and author of the project: Karmina Šilec
Performing
Carmina Slovenica Choir

Bojan Gorišek, piano
From the Press
Bogdan Učakar, Večer

An expressive metastasis, thrillingly and intensively spread into the silence and scream of the scene in the unique mythological perfection. Not just calculated, but precisely and consciously set under the choral and stage light. That was choir theatre turned inside and towards the scream outside, a straight line from a folk legend to the magic line of shocking naturalism. An achievement measured in all segments with the most perfect choral and scene massages.
Program
Lojze Lebič: Urok
Veljo Tormis: Raua needmine
Arne Mellnäs: Aglepta
Mark Winges: Magic Strings
Adriana Hölszky: Vampirabile
Judith Shatin: The Wendigo
Stephen Hatfield: Tjak