Adiemus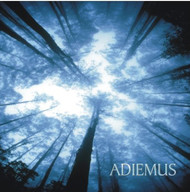 DVD / 2004
Adiemus stirred the imagination of music-lovers all over the world. Therefore the album with this musical work was one which sold best and reached the tops of classical as well as ethnic music charts.
Karl Jenkins' popular vocal-instrumental work Adiemus belongs to a sort of symphonic music with a touch of ethnic elements. Adiemus is best described as a work of "new age" or "progressive" music. Adiemus is composed of many different kinds of melodies, distinctive harmonies and minimalist repetitions of musical themes that Jenkins shaped into an expanded choral work.
Author of the project and conductor: Karmina Šilec
Music: Karl Jenkins: Adiemus
*
For promotional and study purposes only.
Performing
Carmina Slovenica Choir

Orchestra Chorus Instrumentalis
From the Press
A superb musical scenario, a new big step forward. The powerful synthesis of singing and the instrumental as a logical completion and integral musical outline.
… artistic and popular perfection …

Bogdan Učakar, Večer