Spixody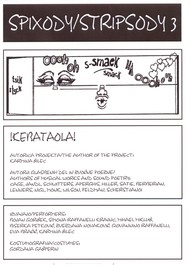 DVD / 2008
Spixody was pronounced the most experimental performance of the 12th Teatarfest Sarajevo festival in 2009.
Choregie − Vocal Theatre or Theatre of Voices.
Spixody explores music and sound poetry of the 20th and 21st centuries, new sounds, new vocal techniques and new forms of expression. Choregie creates new relationships among means of expression, a new hierarchy of performance which is defined by modern vocal art.
With the selection and performance of music and sound poetry Spixody is a project which reflects a re-integration of words, music and partially movement, as it is understood in the concept of Greek mousiké. The structure of the performance is influenced by popular entertainment genres, especially by the theatre of sequences, episodes and varieté. With the technique of getting the point quickly in the tempo of vaudeville this theatre of sequences enables a modern urban individual, who is lacking the ability to tune up his sensual life to only one tone or mood for a longer period of time, to experience change and diversity.
Author of the project: Karmina Šilec
Authors of music and sound poetry: John Cage, Ernst Jandl, Kurt Schwitters, Georges Aperghis, Wilfried Hiller, Erik Satie, Kathy Berberien, Claude Lenners, Henry Nigl, Robert Wilson, Morton Feldman
Performing
Vocal theatre İKebataola!
Bojan Gorišek, piano
From the Press
And so again we were witnesses to the top 'execution' especially in the moments when music had a main word. The project has a very ambitious plan, because it also tries to meaningfully add theatrical dimension which only underlines ambivalence between musical and verbal.

Gregor Pompe, Dnevnik