Stripsody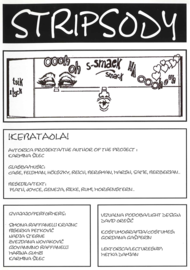 DVD / 2005
The vocal theatre or theatre of voices creates new relationships among various means of expression, a new hierarchy of performance which is defined by modern vocal art.
The project Stripsody is a mixture between a concert and a stage performance, and it is neither definite nor final. It leans towards pure music and at the same time frees itself and is developed in contemporary atmosphere. It explores music space, new sounds, vocal techniques and new expressions.

The art concept grasps different aspects: music theatre, electronics, video, visual art, drama, literature and contrasting elements of contemporary vocal music.
Stripsody inspires and leads the performers and the audience into tension or meditation – simultaneous moods of the present.
Author of the project: Karmina Šilec
Music: Cage, Feldman, Hölszky, Reich, Bergman, Marsh, Satie, Berberian

Texts: Plath, Joyce, Geneza, Rilke, Rumi, Morgenstern
Performing
Ensemble İKebataola!
Bojan Gorišek, piano
From the Press
… Our performers are certainly not the top singers, as is the case with all the performers of Stripsody. Stripsody, however, equals and surpasses theatre performances even in more obvious acting skills. There is simply an absolute precision in performing – of voice, mime, and gestures.

Petra Vidali, Večer