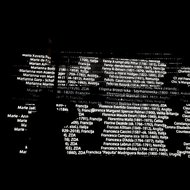 geolocated sound exibition
PREMIERE: 25.11.2022 ob 19.00
next run: 28., 29. in 30. 11.2022 ob 19.00
Architectural space is not a total message in itself. It makes something possible, but it becomes fully meaningful only when it is used. It can also be an indicator of the content. Architecture could become interesting differently when experienced via auditory senses. Space through sound. In sound exhibition Philomela the interplay between aural and visual architecture creates captivating spatial experiences. Sonic walk is designed to immerse a walker in the sounds and place by placing music in the church and in quiet spaces of outdoor courtyards what heightens walkers' awareness to sound and space. Songs sound like the landscape what shaped the experience. After installing the free smartphone app and downloading Philomela, participants can explore at their own pace, triggering a dense array of musical cells that are carefully crafted to harmonize with the Minoriti church landscape and attractions.
PHILOMELA tries to increase awareness of the gaps in our knowledge of music composed by women. The project aims to change our understanding of the canon of classical music, and its overwhelmingly male appearance. The project aims to investigate forgotten identity of early women composers. The goal is also to erase the need for the distinction of 'female' composer entirely.
HOW TO USE:
Carmina Slovenica's first geolocation sound exhibition takes the listener through Minoriti Church. With the help of a simple application loaded on a smartphone, listeners follow the markings on the map of Minoriti. When listeners enter geographically restricted areas - at locations marked with a circle - the musical content of Carmina Slovenica's performance is triggered.