Musica Inaudita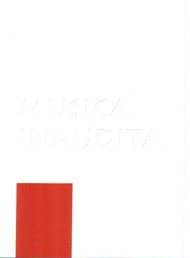 DVD / 2004
Music written by nun composers
Musica Inaudita encompasses works by cloistered women composers from the 9th to the 17th centuries, from Kassia of Byzantium to the nuns from Lombardia, from the prophetess Hildegard to Mexican Baroque female musicians.
The program of Musica Inaudita reflects various contrasts between the spirituality of the Eastern and Western church, between the temperaments of the European Medieval music and the South American Baroque and between contemplative choral chants and brilliant polyphony. Musical forms include Gregorian chant, medieval organum, Baroque motets, and accompanied sacred vocal music. Appropriately, the concert is interpreted exclusively by women performers – singers and instrumentalists on period instruments – according to historical performance practices.

Author of the project and conductor: Karmina Šilec
Performing
Carmina Slovenica Concert Choir
From the Press
… with beauty and unbelievable fullness of the choral sound, tense interpretations or dialogue with the soloists … it seems like it is not difficult to be brilliant if you are curious, if you have an artistic goal …

Jure Dobovišek, Delo
From our webshop